Responsive Website Design is Important for Your Business
Your business's website is often one of the very first things your potential customer sees.
And time and time again, people find it by searching for the solution to their problems on their phones, laptops, and tablets that are all of varying sizes. Imagine if your website on mobile looked incredibly zoomed out, or on desktops, the photos looked pixelated, or any combination of problems—this is when responsive web design is crucial.
Responsive web design is the concept and procedures that enable a website to be viewed seamlessly across devices and platforms. So, when a customer is looking for what you're selling casually on their phone, and then they decide to do more in-depth research on their laptop, your website will seamlessly transition without any effort from the user.
The main goal of responsive web design is to maximize your user's experience. 
Photos are automatically adjusted, the text is resized, and certain features that may slow down your site's mobile version are modified. These changes limit excessive scrolling or zooming when your user is on different platforms.
Previously, some businesses designed separate mobile and desktop versions, but responsive design capabilities have risen above the rest, and the need for these mirrored sites became nearly obsolete.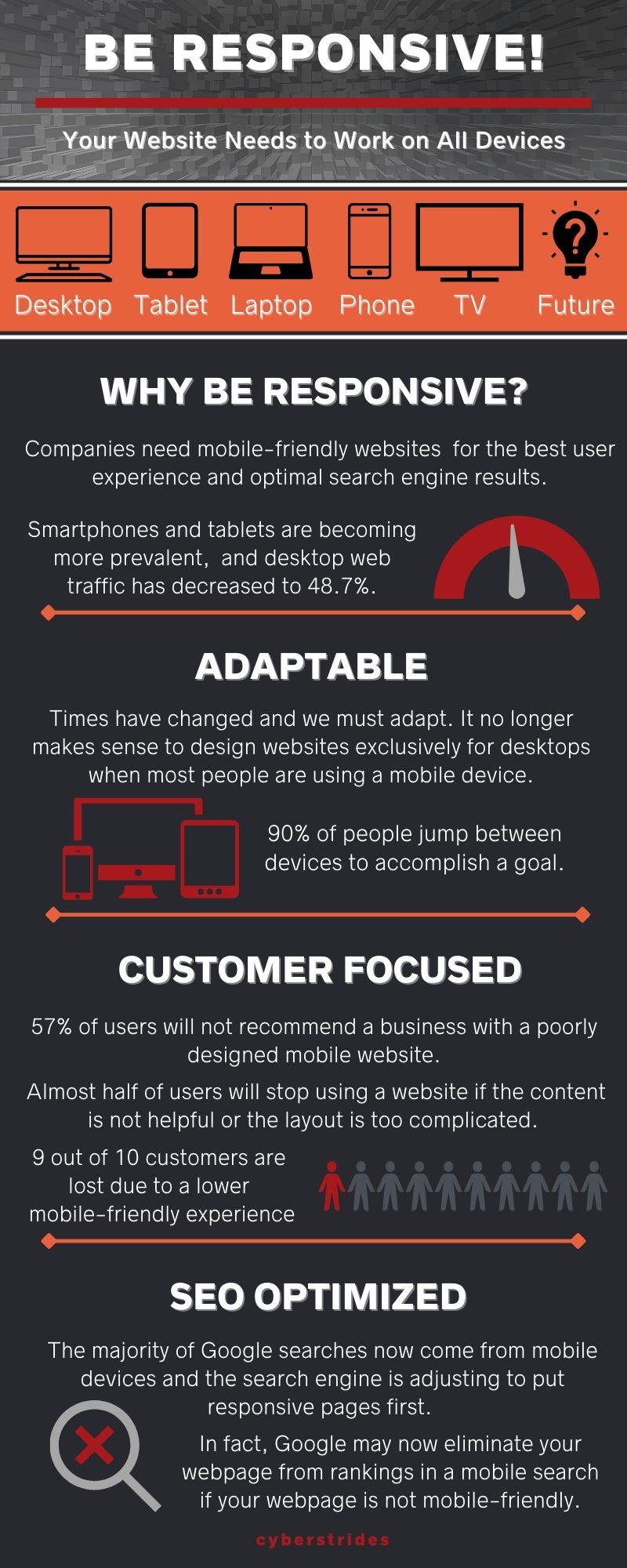 But why should you invest in responsive website design for your own business? 
Similar to if you were to meet a potential client in person for the first time, you want your first impression to leave them so awestruck that they can't say no to your pitch.
Your website is the same first look for most potential customers and clients, and laying the groundwork for a dazzling first impression is important—and responsive web design is an important building block in this process.
A responsive website is important to building a positive perception of your company or brand, one of professionalism and accessibility.
But branding isn't the only bonus; responsive web design is also crucial for SEO. Over 5 years ago, Google announced that their website crawlers would reward websites optimized for mobile, desktop, and tablet users. So, in turn, quality responsive web design also helps your Search Engine Optimization.
Creating a responsive design is something that any seasoned pro can tackle for you. Building a website for a business is no small feat, and trusting a designer with how the virtual world will view your company can be intimidating. But make sure to communicate with your designer that quality responsive design is important to you and your brand's reputation.
CyberStrides can be the partner you need to bring your dream website into clear view. We will work with you step by step to make sure you make the best first impression possible.