Enhance Your Brand's Visibility and Expand Your Reach with Targeted Dallas Search Engine Marketing Strategies
Subscribe to our YouTube Channel
Digital Marketing Agency
Welcome to CyberStrides, your trusted Dallas Search Engine Marketing firm. If you're a business in Dallas, Texas, looking to enhance your online presence and attract local customers, you've come to the right place. Our team of experts specializes in local search engine optimization strategies tailored to the unique needs of businesses in Dallas, Texas. From keyword research and on-page optimization to Google Business Profile management and content creation, we have the tools and knowledge to help your business stand out in the local market. Take the first step towards online success with our comprehensive Dallas SEO Company Services.
Claim your FREE Instant SEO Audit Report Now!
Uncover hidden potential, boost performance, and attract more customers. Don't miss out – get started today!
Dallas Search Engine Marketing
About CyberStrides - Dallas SEO Services
At CyberStrides, a digital marketing company, we specialize in providing exceptional SEO services, with a specific emphasis on local search engine optimization. If you're based in Dallas, Texas, and looking to boost your online presence, we have the expertise to help you stand out in the market. 
Our dedicated team understands the intricacies of local Dallas Search Engine Marketing  and its impact on businesses. We offer a comprehensive range of services tailored to optimize your website's visibility within the community. From keyword research and on-page optimization to Google Business Profile (GBP) analysis and citation building, we have you covered. 
We take a vested interest in the success of our clients, and our goal is to become an integral part of your growth journey.
Learn more about CyberStrides our comprehensive range of local search engine optimization in Dallas, Texas services and discover how we can help your business grow.
"Working with CyberStrides for our SEO needs has been an absolute game-changer for our business. The results speak for themselves – our online visibility has skyrocketed.  Their expertise, professionalism, and commitment to our success have been outstanding. We highly recommend CyberStrides to any business looking to boost their online presence and achieve remarkable results." alanna.ai
Claim your FREE website audit now!
Dallas Search Engine Marketing Process Steps Detailed
Initial Consultation and Strategy Development

Conduct an initial consultation with the client to understand their business, target audience, goals, and specific requirements, including their needs for SEO Dallas Texas services.

Perform a comprehensive analysis of the client's website, including its current SEO performance, local presence, and competitors in the area.

Develop a tailored SEO strategy that focuses on specific optimization to improve local visibility and target relevant keywords for SEO Dallas Texas.
Citations and Directory Listings:

Identify relevant local directories, industry-specific platforms, and citation sources 

Create consistent and accurate listings for the client's business, ensuring NAP (Name, Address, Phone Number) consistency while emphasizing their local presence.

Monitor and manage citations regularly, making necessary updates and corrections to maintain current information.
Keyword Research and Market Analysis:

Conduct thorough keywords research to identify relevant, high-volume keywords specific to your area and the client's target market.

Analyze local search trends, user behavior, and competition determine the most effective keywords to target for SEO Dallas Texas.
Content Creation and Optimization:

Develop localized content strategies to target the client's local audience, incorporating specific keywords.

Create informative and engaging content, such as blog posts, articles, and guides, optimized for SEO Dallas,Texas and the interests of the community.

Implement location-specific landing pages or location-based content on the website to capture specific search traffic.
On-Page Optimization

Optimize the client's website's on-page elements, including meta tags, headings, URL structure, and content, with a focus on incorporating specific keywords.

Ensure proper usage of SEO Dallas Texas target keywords while maintaining a user-friendly and engaging experience.

Implement schema markup and structured data to enhance local search visibility, such as local business information and reviews specific to the Dallas area.
Ongoing Monitoring with an Enhanced GBP Tool, Analysis, and Reporting

Monitor the client's local search rankings, website performance, and traffic using Search Engine (SEO) tools and Google analytics platforms.

Analyze data and metrics to evaluate the effectiveness of the Dallas SEO strategies implemented.

Provide regular reports to the client, outlining key performance indicators (KPIs), improvements, and recommendations specifically for SEI Dallas optimization.
Google Business Profile Optimization:

Claim and verify the client's Google Business Profile listing.

Optimize details within the Google Business Profile, including the description, categories, images, business hours, and contact information and content.

Encourage and manage customer reviews, respond to inquiries, and leverage Google Business Profile features to improve local visibility.
Claim your FREE website audit now!
Uncover hidden potential, boost performance, and attract more customers. Don't miss out – get started today!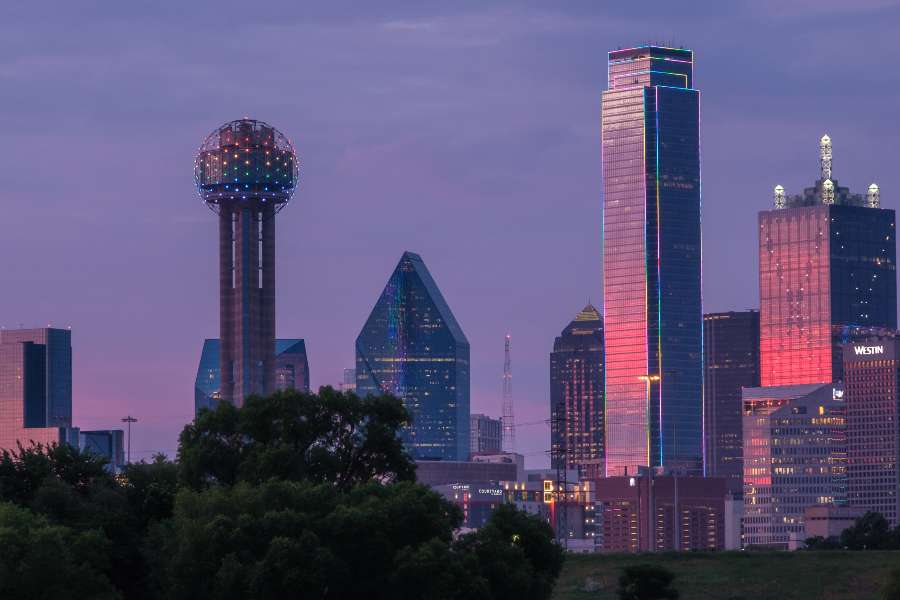 About Dallas, Texas

Situated in the bustling heart of North Texas (Dallas Fort Worth), Dallas is a vibrant city that seamlessly blends rich history with modern sophistication. Known for its iconic skyline, Dallas offers a thriving downtown area brimming with unique shops, trendy boutiques, and delectable dining options, exuding a lively urban atmosphere. As one of the largest and fastest-growing cities in the United States, Dallas boasts a flourishing business landscape, diverse recreational opportunities, and top-notch educational institutions, making it the ideal destination to live, work, and enjoy life.
Whether immersing yourself in the storied past, exploring the scenic parks and trails, or experiencing the dynamic arts and culture scene, Dallas presents a diverse and welcoming community that captures the true spirit of Texas hospitality.

CyberStrides also offers other Digital Marketing Services

Web Development Dallas and WordPress Care Plans
Experience a comprehensive range of services, including web development in Dallas, that will empower your website for success. Our offerings encompass everything you need to establish a seamless online presence. Benefit from our expertise in mobile-friendly design, ensuring your website looks stunning and functions flawlessly across devices. Additionally, we integrate social media elements that encourage audience engagement and interaction with your captivating content.

Google and Facebook Ads Management
Capture the attention of regular Google searchers and avid Facebook scrollers with captivating and precisely targeted ads. Stand out among the crowd and connect with your ideal customers effectively. With our expertise, the possibilities are boundless, and we will ensure your ads deliver tangible results that drive your business forward.

Marketing Automation
Unlock the power of marketing automation to effortlessly guide your potential clients throughout their journey. With our expertise, you can bid farewell to monotonous tasks and reclaim your time to focus on what truly matters. CyberStrides is your trusted partner in streamlining processes, allowing you to embrace the passion that drives your business forward.